Nipissing Researchers Launch High Frequency Monitoring of Lake Nipissing Water Conditions
In 2013, researchers in Nipissing University's Department of Geography began intensive monitoring of lake Nipissing water conditions using a secondhand lake buoy to suspend instrumentation in the water column. The buoy was anchored in the deepest spot in Callander bay, one of the three sheltered bays in the lake that experience harmful algae blooms. The instruments collected hourly measurements of water temperature and light every meter through the water column, and oxygen levels in the deepest 4 meters.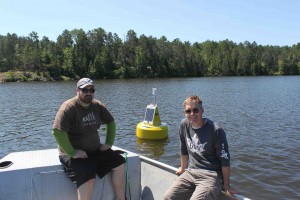 In 2014, Nipissing University Geographers received $50,000 from the Ontario Ministry of Environment to expand their bay monitoring program, and over the last several months, with help from the Ministry of Natural Resources, lake buoys have been anchored in Callander bay, Cache bay and the West Arm. The new buoys are recording weather conditions (wind speed, direction, relative humidity) and additional measurements of water quality, including pH, conductivity, turbidity, and total algae, at a depth of 1 meter.
The Lake Nipissing Bays project will have students and faculty from Nipissing University's Geography, and Computer Science and Mathematics Departments and the Watershed Analysis Centre involved in interpreting the new information and how it can help improve understanding of water quality conditions in different parts of the lake, including bays of interest for drinking water quality, recreation and fish habitat.
Check out the lake buoys data tab to view provisional data from summer 2014.  Photos of May 2015 deployment in Callander Bay.